Make an impact on their life and yours: Become a NEEDS volunteer
Volunteering with newcomers to Canada is often a life-altering experience. Seeing children and youth start to flourish in their new country, begin to hope and dream of a safe and successful future is deeply rewarding. Our volunteers play a critical role in our programming by expanding opportunities for exposure to positive Canadian culture and experiences.
SWIS Summer Activity - Classroom Assistant
REMOTE AFTER-SCHOOL VOLUNTEER MENTORS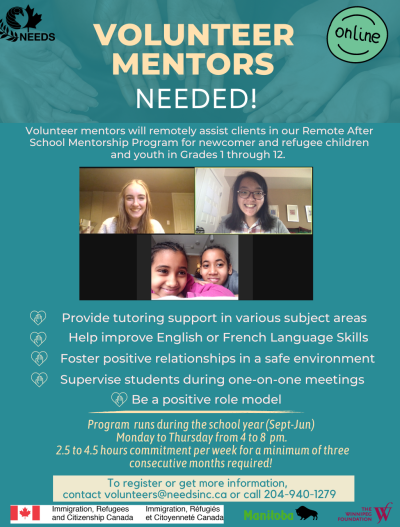 Volunteer mentors will remotely assist clients in our Remote After-School Mentorship Program for newcomer and refugee children and youth in Grades 1 through 12.
Volunteer mentors:
Provide tutoring support in various subject areas including but not limited to English, math, science, social studies, health education, etc.
Assist newcomer and refugee children and youth develop and foster positive relationships with adults in a safe environment
Provide support to help develop, practice, and improve English Language Skills
Supervise clients during one-on-one meetings and communicate all issues with staff
We are looking for English and French speaking volunteers to help clients in both official languages.
Volunteers must commit to a minimum of 3-4 hours per week for three consecutive months
French Remote Homework Assistant
NOTE: Due to COVID-19 and depending on the development of the pandemic, hours of activities may change . It might happen where our volunteer activities are put on hold and will cease until it is safe to resume. During this challenging time, the safety of our staff, clients and all volunteers remains our focus, and specialized procedures have been developed to protect and mitigate against COVID-19. At present, we require all volunteers to complete an online webinar training on N.E.E.D.S. Inc. COVID-19 Procedures and sign a declaration for volunteering at our agency to ensure that all volunteers are trained and understand the procedures that have been established.
Practicum placement opportunities vary.
If you are interested in doing a practicum placement at NEEDS Centre, Please contact volunteers@needsinc.ca