Volunteer Hub Engagement Activities
NEEDS Centre is committed to enhancing the volunteer experience for volunteers who support our remote activities. Our Volunteer Hub helps develop meaningful connections to other volunteers, and NEEDS staff.
Our Volunteer Hub Engagement Activities, including monthly Conversation Circles and Skill Development Workshops are designed to enhance your remote volunteering experience by providing the opportunities to connect with our agency, staff and other volunteers, while at the same time, acquire the necessary knowledge to support newcomer children and youth more effectively.
Volunteer Hub Engagement Activities
Monthly Volunteer Community Engagement Groups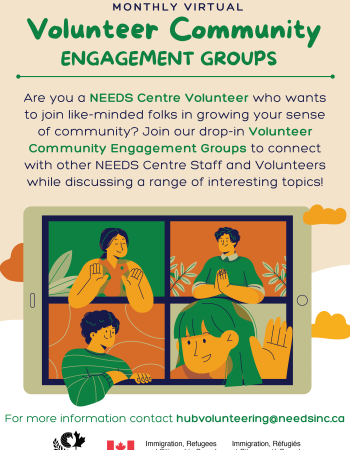 Do you want to join like-minded volunteers in growing your sense of community?
Join our drop-in Volunteer Community Engagement Groups to connect with other NEEDS Centre Staff and Volunteers while discussing a range of interesting topics!
Monthly Skill Development Workshop
Join our Monthly Online Skill Development Workshop to enhance volunteer skills in supporting newcomer children and youth remotely. 
You will have the opportunity to:
Learn from experienced staff as they facilitate workshops focusing on a new topic each month

Give back to your community while building workplace skills that can be included on a professional resume

Grow your knowledge alongside other NEEDS Centre Staff and Volunteer